Description


Size: 100 Caps (450mg)
Origin: Albania
Treatment: Antioxidants
Ingredients: 100% Cistus Incanus, from organic plantations, with BIO certificate 

PL-EKO-07, Cellulose Capsules

Pure herb,

 Unprocessed , E

asy to swallow capsules ,

 

No Additives ,

 

No Fillers, N

o Preservatives
Details
The richest natural source of Polyphenols
Cleansing herbal tea – Cistus incanus is the richest sources of polyphenols-phenolic compounds belonging to the group of plant substances with antioxidant activity supporting the human immune system. Cistus Incanus offers a rich source of polyphenols, proanthocyandidins, bioflavonoids, catechins, gallic acid, rutin and other beneficial bioactive compounds.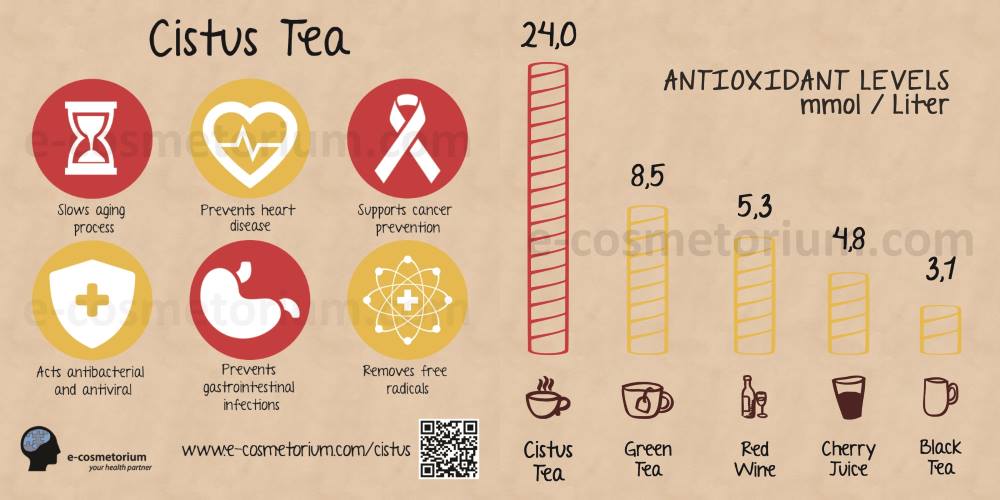 Health Benefits
Flushes toxins and heavy metals, slowing down the aging process.
It has a great ability to capture and remove free radicals.
Alleviates gastrointestinal infections.
It can bring relief to men of older age who suffer from enlarged prostate, since it has antiproliferative and cytotoxic properties. 
Strengthens the immune system, acts as firewall against diseases.
It's a strong antioxidant plant that has a great ability to catch free radicals.
As a result, it has a rejuvenating, anti-inflammatory and vitalizing effect on human body.

Cistus Incanus can also be used for pets in order to protect them against fleas and ticks.

Drinking the extract from Cistus Incanus Health Embassy regularly causes a change in the smell of body discharge. In case of a problem with, e.g. an unpleasant smell of sweat (armpits, feet), after a few weeks of drinking tea made of cistus, it will be noticeable that the unpleasant smell has greatly reduced. Apart from deodorant with magnesium, it is the second thing really worth considering.

It has a positive impact on quality of life
Use
Take 1 capsule two (2) times a day with a glass of water. Do not exceed recommended dose. .
Payment & Security
Your payment information is processed securely. We do not store credit card details nor have access to your credit card information.